While we are the first ones to get tired of the same 40 or so Christmas songs that flood the radio waves in late November, we won't deny wishing for some seasonally appropriate sexy music to set the mood during the holiday season. Below we've listed 10 of the sexiest Christmas songs for everything from a holiday striptease to getting cozy while the kids are asleep.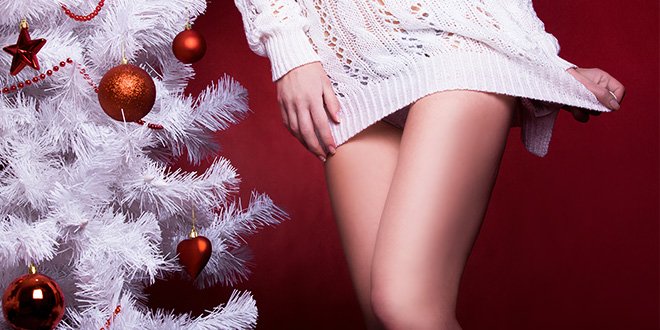 1. Christmas (Baby Please Come Home) – Michael Bublé
Oh, babe!
You are aware that I need you
Oh comin' home
You are my best friend
You are aware that I need you
We don't usually think of many male singers who put on a 'pouty' spin on their singing voice, but Bublé manages it in this passionate missive, exclaiming how much he 'wants you, needs you [and has] gotta have you' this Christmas.
2. It Snowed – Meaghan Smith
It snowed. It snowed.
It snowed last night
Everything sparkles with diamond light
The road is empty
It's four feet high
Honey let's play hooky
It snowed last night
This song is the perfect playful tune to recapture some of the wonder we still have after the first big snow of the year…combined with some more adult inclinations when we play hooky from work.
3. I've Got My Love to Keep Me Warm – Kay Starr
My overcoat can be taken off with my gloves
Who needs an overcoat I'm burning with love
My heart's on fire and the flame grows higher
So I will weather the storm
It may be a storm, but what do I care?
I've got my love to keep me warm
We're partial to this more upbeat version (though many might prefer Ella Fitzgerald's or Dean Martin's) in which the singer joyously celebrates the heat of passion that warms up the coldest winter night.
4. Let It Snow – Boys II Men
Ahhhh! Come over and trim the tree
I wanna wrap you up
Baby, then you'll see you're the only present I need
If the intense 90s nostalgia that makes us love this sensual slow jam is wrong, then we don't want to be right. This song is the perfect way to change the mood from cheerful and festive to sexy, as you cozy up next to the fire.
5. Santa Baby – Eartha Kitt

Think of all the fun I've missed,
Think of all the fellas that I haven't kissed,
Next year I may be just as good.
If you'll check off my Christmas list.
This song was originally released in 1953. While everyone has covered the song, including Taylor Swift and Mariah Carey, it is still a favorite.
Eartha's vocals are effortlessly sexy, strong, and definitely not cutesy or childish. It makes for an excellent striptease song that shows your partner you're not too fussed on being good this year.
6. Santa Claus Got Stuck in My Chimney – Ella Fitzgerald
He was at the top of the chimney
Roly-poly, fat, and round
He was at the top of the chimney
Not quite up and not quite down
Santa please return to my chimney
Back to my chimney
We don't think it's only (space) our ears that think these lyrics sound a little dirty. Even if it is, it's still a playful song with the amazing vocals of Ella Fitzgerald, so you can't really lose if you're trying to flirt with your partner. And if they're on the more well-equipped side of things, we're sure they'll appreciate the joke!
7. I Know What You Want for Christmas – Kay Martin & Her Bodyguards
I would like to wrap it for Christmas
But I can't decide just how it's done
It should be packaged in a nice package
It's so much fun to wrap it!
It won't be a surprise; it should be a delight
If it's just our minds in the gutter for the previous song, that certainly isn't the case for this little-known holiday song. She may not know exactly how to wrap up the perfect present, but we're sure it was a lot of fun trying. Of course, she's not the only one to think about all the potential kinky uses for ribbon and gift wrapping either!
8. Back Door Santa – Clarence Carter
I ain't like
Old Saint Nick
He don't come
Only once per year
I come runnin'
With my gifts
Each time
You call me dear
It's not back-door, as you might think, but it's still saucy. This naughty Santa makes sure to pay visits to all the good girls while the rest of the other guys are 'out to play,' hence why he needs to sneak in the back entrance.
9. Merry Christmas, Baby – Christina Aguilera
Baby, Merry Christmas
You sure do look good to me
Ain't had a taste this mornin'
But I'm all lit up like a Christmas tree, yeah
Christina is waiting patiently for St. Nick's arrival. Her references to kissing Santa under the mistletoe go to show what list she's made and Santa doesn't have to check twice.
10. Santa Tell Me – Ariana Grande
Santa, tell me if you're really there
Don't make me fall in love again
If he won't be here next year
Santa, tell me if you really care.
'Cause I can't give it all away
If he won't be here next year
What did you ask for this Christmas—or rather, who did you ask for? We are well into cuffing season, or that time of year when the weather starts getting colder and we seek a relationship that'll make things hotter. Even if you're happy with where you're at this holiday season, this song by Ariana Grande is as catchy as Christmas jingles get.
---
Katy Thorn is a post-grad writer with a passion for writing about sex, sexuality, and all things rated R. She received her degree in Women's Studies with a focus in Intersectionality at the University of California, Berkeley (Go Bears!). She is the proud owner of Yoko, a cat who loves black coffee and hates writing bios.