Be it in the bedroom or just out in the world, the start of a new year is a great time to take stock and examine our trajectories to figure out if what we find is affirming – or in need of some adjustment.
What follows is a list of romance-related resolutions for the coming year, and it's been said that to make these annual goals real, you should write them down. These resolutions were written from real places in the hope that you, as the reader, will find some that resonate with you and be able to put them into practice in your life.
Here's to 2022!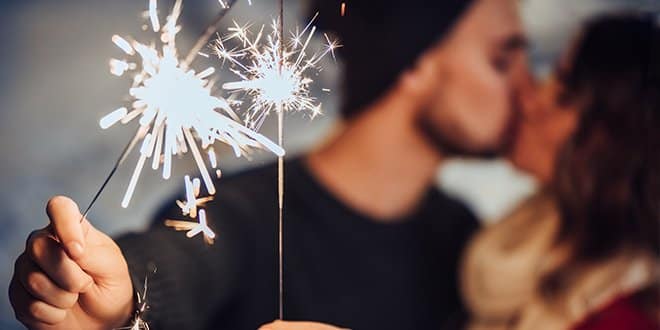 1. Get it Tested
I'm going to jump into the deep end right now. Most STIs are asymptomatic. – meaning you could have them (and be passing them along) but have no idea. According to the American Sexual Health AssociationOne in two sexually active individuals will get an STD before the age of 25. 
Commit more to keep yourself and your partners protected by speaking very frankly with a medical professional about your sex life and they'll give you an idea of how often you should get tested and what you should be getting tested for. STDs left untreated can cause serious health problems in the long-term. It is a good idea to have your sex checked.
2. Limber Up
If you're anything like us, you've sat in front of a computer for more hours of the day than you should be, especially with the rising popularity of work-from-home that this year has brought us. Stretching is a great way to get your body moving and prepare it for the day.
Getting loose with some simple stretches promotes better circulation and will have you moving your body in ways that it normally wouldn't during the regular day. You can find a few yoga poses that you can do in 10 minutes, between getting up and starting your morning routine. This will allow you to stretch out and activate your muscles, which can help you stay limber and keep your blood flowing. Strengthen your pelvic floor muscles.
3. Keep it Lubricated
Let's face it, every now and again, alone or with a partner we find ourselves in desperate need of lubricant. But, keeping a bottle at the table feels like crossing the line. If a little bit of lube can instantly enhance sex, then why not? Keep in mind that a small amount can make all of the difference. Condoms Safe for sex Just in case 
It is better to have it than not need it.
4. Let Go of the Goal
In 2021, go to bed with someone – a casual hook-up or your S.O. – without a goal in mind: the usual goal here being orgasm, of course. Get those, just be close. Love and lust endorphins Allow things to flow naturally and allow them to happen. Rather than focusing on sexual activity as the ultimate goal, most people overlook intimacy.
'Going to bed with someone' isn't just a quaint way of describing sex. Going to bed and exploring each other's wants, or simply being close, is a great way to discover more about a new intimate partner, or even rediscover what originally attracted us to our long-term partners in the first place.
So, what resolutions do you have for 2022? Reduce sugar consumption Reduce frivolous spending. In the comments, tell us about it and how you plan on doing it!
---
For Lea, what once was "a European summer abroad" turned into traveling the world and studying sexual cultural differences for the past 6 years. She has a PhD in Gender & Sexuality and has a theory that dating guys in their twenties is an unpaid internship. She's currently writing from a cafe in New Zealand.